The Venice Simplon-Orient-Express is synonymous with bygone opulence, romance and intrigue – and it's firmly back in vogue, says Fiona Vlemmiks.
A hallmark of luxury travel in the roaring 1920s, the Orient Express was a muse for writers and the place to be seen for Europe's grandest aristocrats.
Carving its own niche in history, it was aboard the Orient Express that First World War armistice papers and France's surrender to Nazi Germany, in the Second World War, were both signed.
Popularity waned during the austerity of the post-war years, although a pared-down service operated until 1977.
Then came a fresh approach: using classically-restored original carriages, the reimagined Venice Simplon-Orient-Express (VSOE) launched in the 1980s, deliberately designed to transport passengers back to the golden age of train travel.
Kenneth Branagh's recent film adaptation of Agatha Christie's Murder on the Orient Express can only have helped to thrust this cinematic mode of traversing Europe back into the limelight.
The cabins
Choose from single or double cabins, or a cabin suite. The sumptuous spaces are relatively small, compared to a similarly priced hotel bedroom, but perfectly formed.
Plush seating, available during daylight hours, converts into beds come the night. Each cabin has its own washbasin, but those looking for extra privacy should opt for one of the Grand Suites, which include new ensuite bathrooms.
Food and drink
Feasting in the train's historic dining cars – Côte D'Azur, Etoile du Nord and L'Oriental – is a highlight. Features include intricate marquetry, Art Deco iconography and gorgeous René Lalique glass panels.
The food, crafted by executive chef Christian Bodiguel, is inspired by the route and is served with expertly paired wines. Seasonal ingredients are of paramount importance and might include tender, marinated lamb or broiled lobster.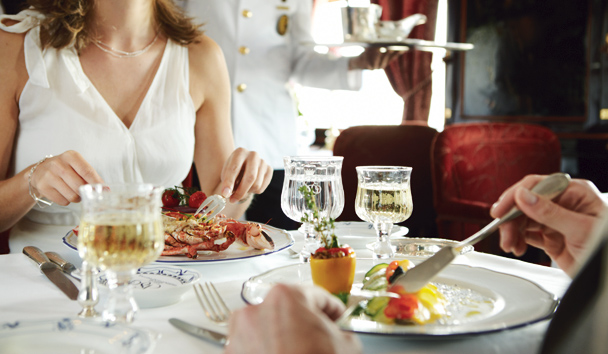 When to make sure you're looking out of the window instead of reading a book
The Alpine stretch of the Venice to London route boasts breathtaking scenery as the train snakes through the delightful Dolomites and into Austria.
Continuing west, take in the elevated Arlberg Pass, studded with tall pines and chaletstyle homes, and the snowcapped peaks of Liechtenstein.
Elegant Resorts offers one night in the Belmond Hotel Cipriani, including breakfast, and one night aboard the VSOE, on a full-board basis, from £2,740 per person, based on two people sharing. Includes one-way economy flight to Venice, transfers and UK airport lounge passes. www.elegantresorts.co.uk
---
Credit: Alamy
For book lovers who never get the time to read, audiobooks can make a great present. We've picked out five
It's a year of anniversaries for fans of Agatha Christie but what's behind her enduring appeal?
This beautiful place in Northamptonshire has some wonderfully exotic features – most notably behind an initially ordinary-looking bookcase in the
---