With a gold ballroom, an extraordinary indoor spa complex and a £150,000 playhouse, the only thing Pinewood House lacks is an owner.
Pinewood House dates back to 1880, when it was constructed in the Jacobean style of the 1600s for a city financier named Albert Knott. The place has had its ups and downs since then, but a major restoration project carried out a decade ago has turned it into a rather extraordinary family home.
This Grade II-listed mansion of palatial proportions sits in Oxshott, on the fringes of south-west London. It's now looking for a new owner and is on the market with Knight Frank at a guide price of £14.5 million.
Set within three acres of immaculately maintained gardens, the elevated house stretches across an impressive 28,500 square foot of the property and seamlessly combines breathtaking period features with the most modern of luxuries.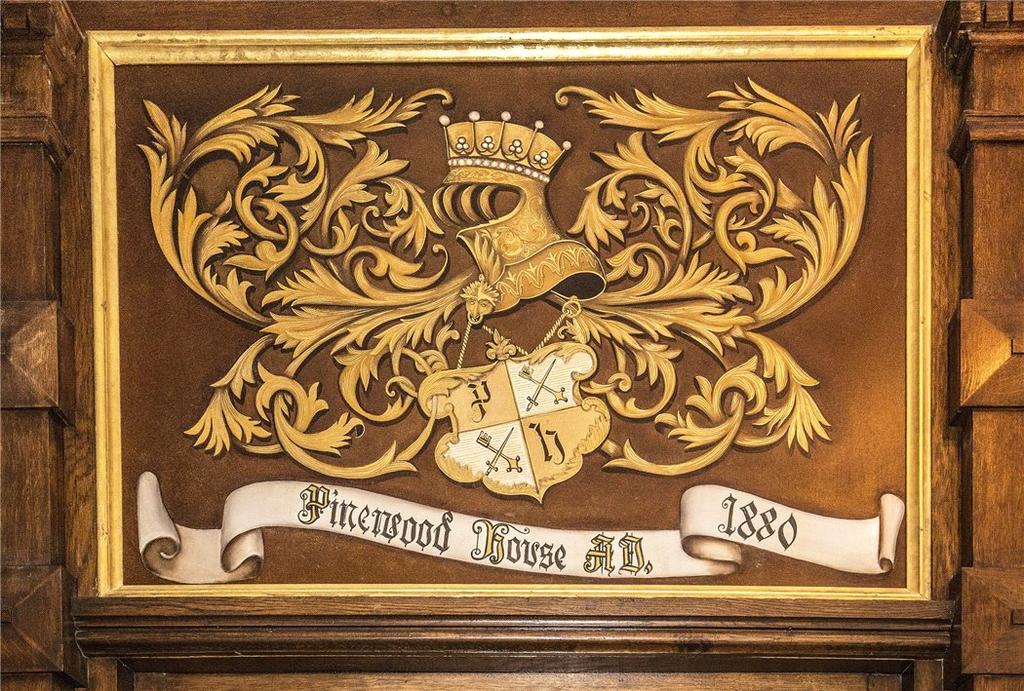 If the ornate bargeboards and wooden panelling of Pinewood's exterior reflect Knott's vision for an idealistic country retreat from bustling 19th century London, much of Pinewood's interior pays homage to a different owner, Arnold Trinder, who purchased the mansion and its surrounding grounds during World War I.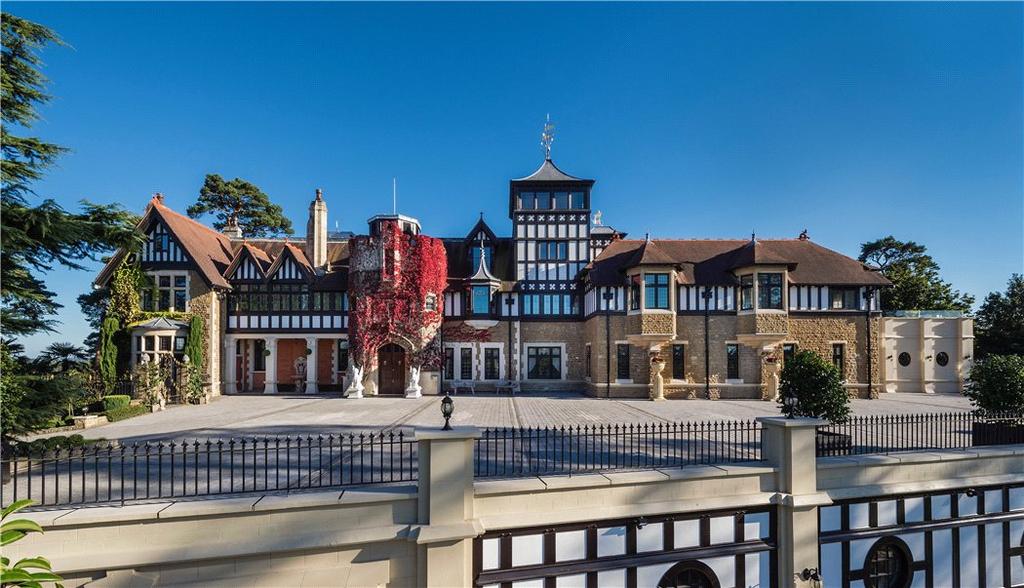 Trinder was a wealthy shipping magnate whose fleet was reportedly instrumental in dissolving the German U-boat blockade. His time spent at Pinewood lead to the nautical influences in the double height great hall, almost entirely panelled with intricately carved oak.
By 1952 the house was in need of a new owner. Bertie Rimmer purchased the colossal mansion and divided it into three parts, keeping the main house for his family and himself.
He sold one of these to Polish builder Andrew Holeshowski in 1993 for less than £500,000. Seeing the property's potential, Holeshowski purchased the remains of the estate from his neighbours in 2007 and embarked on a three-year odyssey to return the mansion and its grounds to their formal glory.
In 2012 the property had been renovated sympathetically to its Jacobean origins and once more restored to a single dwelling.
Pinewood's exceptional ornamentation only continues past the grand entrance hall. The mansion's drawing room boasts an elaborately plastered ceiling, as well as decorative friezes on the walls, depicting scenes from John Milton's Paradise Lost.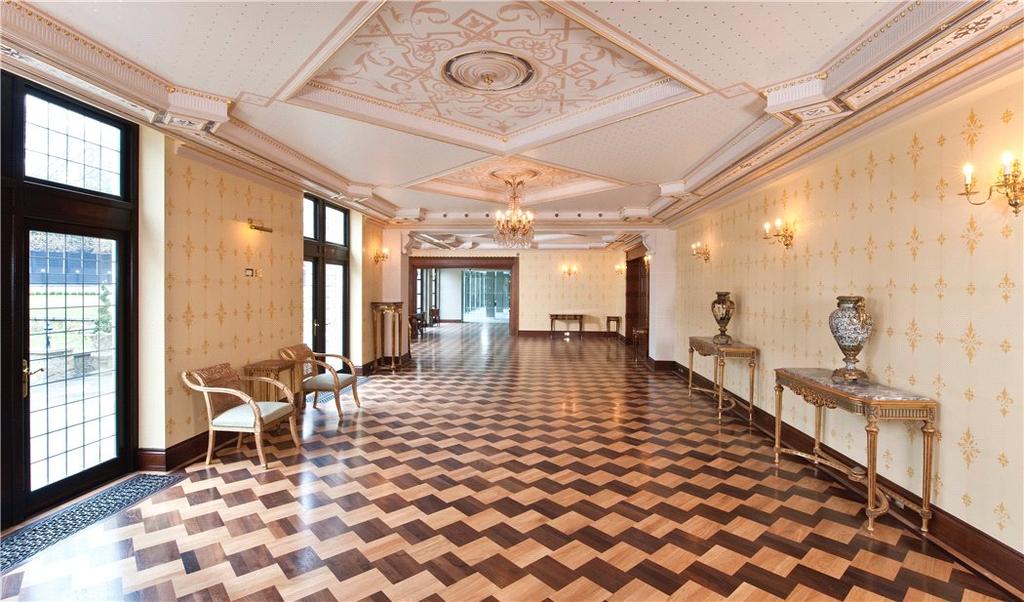 The work of Peter Stoff – the Austrian decorator who famously restored the interiors of Buckingham Palace and the Palace of the Sultan of Brunei – is evident in the 50-foot ballroom, which has been decorated from floor to ceiling using 24-carat gold leaf.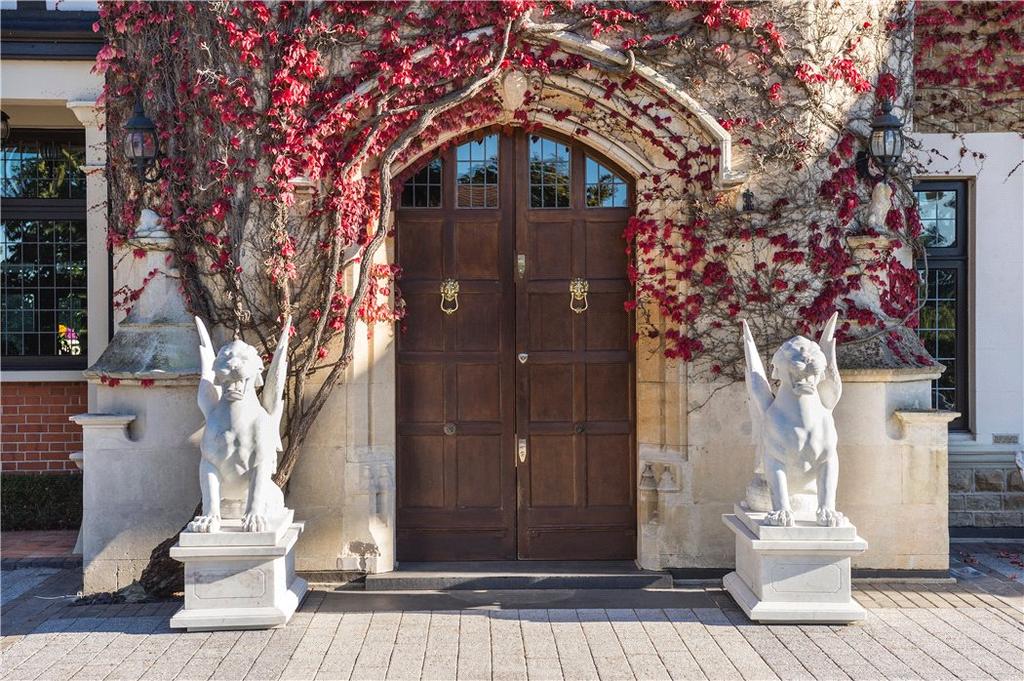 The mansion's more modern luxuries are so extensive that the sheer number of them almost renders their individual significance meaningless; a gymnasium, a spa complex complete with treatment room, sauna and steam room, a wine cellar and a home cinema with  Art Deco-style touches and its own bar.
Beyond the couse an outdoor swimming pool, an underground garage with the capacity for 20 cars and a home cinema which enjoys its own private bar.
Younger guests will delight in the 'Kids Kingdom' playground with its zip wire, climbing wall and spectacular playhouse, a miniature replica of the mansion itself.
A prospective owner who strives for distinction would be delighted to discover that Pinewood is apparently the only historical, residential Grade II listed mansion in the UK to have its own indoor swimming pool complex.
Coupled with the prodigious roof terrace comes the observatory tower, which provides panoramic views of both the surrounding countryside and the central London skyline, a mere 20 miles away.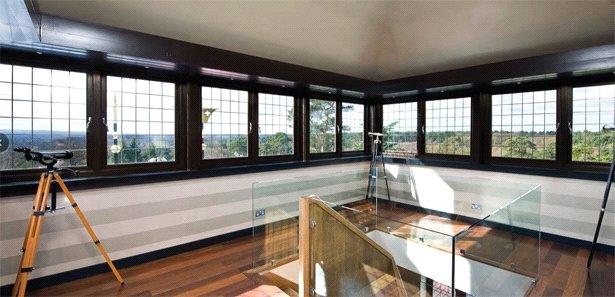 Despite this breathtaking addition, one need not look too far afield for a commanding spectacle to delight the eye; Pinewood is without a doubt one of the most striking sights in Surrey.
Pinewood House is on the market with Knight Frank at a guide price of £14.5 million – see more details and pictures.
---
Credit: Strutt & Parker
Set on 1.5 acres of land on the edge of Bourne Wood, Lobswood House has been sympathetically renovated to retain
Credit: Galbraith
Rich with areas of ancient woodland and extensive wildlife, this stunning island off Argyll's secret coast provides the opportunity to
---