We recommend six different places that can supply you with a perfect kitchen dresser.
Kitchen dressers aren't the sort of thing that get handed down – they're simply too useful.
And while they're not a necessity early in adulthood – you'll never fit it into your flat in Fulham, even if you could get it up the stairs – they're an essential for those who've moved out of town. What country kitchen is complete without a dresser overflowing with crockery, nick-naks and fading recipe clippings from newspapers and magazines?
Since you're unlikely to be gifted one at precisely the right moment, you'll almost certainly have to find one for yourself. The question is where from.
Here are our six top suggestions:
Country auction houses
Country Life's Art Market correspondent Huon Mallalieu recommends country auction houses or the smaller ones in London'. He cites the recent sale of an early-19th-century oak dresser by Reeman Dansie of Colchester, which fetched £843, as 'really rather a reasonable price'.
Online auctions
eBay is also a good source, as is www.sellingantiques.co.uk. At the time of writing, the latter had several listed, from £535 for a 4ft Victorian pine dresser to £10,600 for an oak Welsh dresser of about 1750.
The cost-effective option
Mark Penny at the Victorian Pine Workshop, near Bisley in Surrey, keeps a variety of sizes in stock. 'A mid- to late-19th-century, pine farmhouse-style two-piece dresser in a mid size (5ft) is usually priced at about £495 to £595,' he says.
The reproduction specialists
For new and reproduction models, Titchmarsh & Goodwin makes bespoke, fine English oak dressers – as well as other furniture – at its workshop in Suffolk. One of the most popular models (66in) retails at £4,793, but the company can make any size (www.titchmarsh-goodwin.co.uk; 01473 252158)
Getting something new
Cotswold Country Interiors has a sizeable range of painted, oak and pine dressers, starting from under £500 (0333 200 1725; www.cotswoldco.com)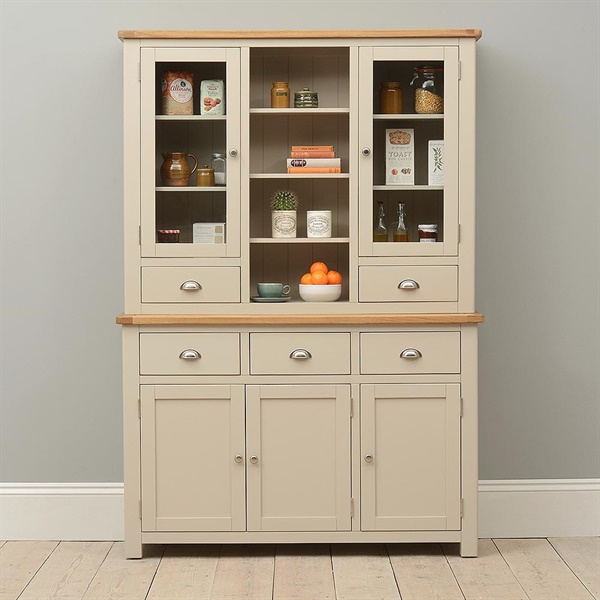 The bespoke option – or a slightly-used bargain
The Kitchen Dresser Company in Lymington, Hampshire, is stocked in Liberty, London W1 and sells both bespoke and off-the-peg designs. A selection of heavily discounted models that have been used in photoshoots is available on its website (www.thekitchendresser.co.uk; 01782 575565)
---
Credit: Alamy
What is a country kitchen without a dresser overflowing with crockery, car keys and keepsakes? Flora Watkins explains all.
Julie Harding lifts the hot plate on the heart-warming kitchen feature no country house should be without.
We find six of the best kitchen dressers for the perfect country kitchen
---