Forget about the big things. You can keep the necessities. Don't tell us about the must-haves. Alexandra Fraser takes a look at a few little luxuries which, in a world too full of strife and woe, will help ease your way through life with a smile on your face.
The name of the game is Christmas hampers and the aim game is to get through this entire list plus my snarky diatribe without chucking your laptop out the office window in protest over the inequity of it all, a pain which boils down to one simple and salient question – how is it that there are so many hamper options available but you never seem to receive one?
I have a theory (that was unfortunately proven false when my mother sent me a picture of the hamper she had brought home from some fair or other two days ago but let us nonetheless continue) that hampers don't really exist outside of show rooms and school hall stages – in fact, the second a raffle winner steps up to claim their prize, the entire thing will pop out of existence like a cork out of a bottle of cheap prosecco in Budapest, vanishing without a trace, leaving behind only the faintest aroma of chutney and the odd broken light bulb. Let's see if these wonderful companies (and my mother) can prove me wrong.
In the beginning, there was Fortnum.  

One simply cannot put together a hamper round up without first drawing attention to the king of them all: Fortnum & Mason. In continuous honour of our beloved Prince of Wales special Country Life issue released earlier this month, I've ignored the £6,000 hamper in favour of the still-can't-afford-it-but-could-trade-a-week's-rent-for-it-instead-of-my-future-first-born Christmas at Highgrove Hamper.
Stocked with Highgrove's own brandy butter, champagne and wine, this hamper definitely has the royal seal of approval (quite literally. It has The Prince of Wales' feathers on it).
Bonus fact: Fortnum & Mason's website has this fun little trick whereby once you're on the page of your selected hamper, it suggests you 'enjoy a little more' and go for the next size (and price) up. I imagine it's the route to either happiness or madness depending on your level of disposable income.
The Christmas at Highgrove Hamper, £175 available at www.fortnumandmason.com.
---
Weekly plug of my nightly glug
 This gin-erous (yep) gift is available all year around and I, for one, am intrigued by the concept of G&T popcorn (are you reading this, loved ones? I'm intrigued).
Gin & Tonic Lovers hamper for £34.95 from Spicers of Hythe, www.spicersofhythe.co.uk. 
---
Confession: I'm not a vegetarian.
The Rhug Estate is an organic farm in Wales that knows its meat, as evidenced by this slice of heaven. Their marvellous box with its turkey, gammon, beef joint, leg of lamb and assorted garnishes (all meat, obviously) will take you through the Christmas season – the entire season. All twelve days.
That's not a hamper, I hear you say, it's a box.
Shut up, I reply, and look at this turkey.
The Complete Christmas Meat Box with Garnish Pack for £231.63 from the Rhug Estate Organic Farm, www.rhug.co.uk.
---
If Jay Gatsby were a hamper 

I love The Wolseley's chevron design almost as much as I love consistent branding, so in my opinion this hamper really is a win-win. Yes, the price level has been raised a little from our first hamper but this one includes a 'Breakfast for Two at The Wolseley' gift card and I can personally attest to the excellence of their food and floor design. It's also not quite past the £500 mark. Not quite. No tears yet.
The Wolseley Christmas Hamper for £495, available from www.thewolseley.com.
---
WAIT DON'T GO
I think I was losing you there so let me lure you back in with something you could actually buy and eat. Maybe. The Cheddar Gorge Cheese Company are the only company which still makes cheddar in Cheddar, so you know it's going to be the real thing. I'm particularly intrigued by the Cave Matured Cheddar, which is aged in the caves of Cheddar Gorge for around 12 months before it is deemed acceptable for sale.
Top tip: Buy the hamper for a friend. Steal the port. They never know and everyone has a merry Christmas.
The Cheddar Christmas Hamper for £56, www.cheddaronline.co.uk.
---
Ottoman?
The Chorale Christmas Ottoman just looks like a party. Like a very good party. Honestly, I'm coming round to the idea of hampers as an investment in a good Christmas function – pop the champagne on entry, serve the snacks (this one comes with salmon) and hide the best things in the kitchen for when all the guests leave. The leftovers can be wrapped and used as presents. You're basically saving money.
The Chorale Christmas Ottoman for £499.99 from First 4 Hampers, available at www.first4hampers.com.
---
More cheese, if you please 

Based on the very real truth that the beauty of a Paxton cheese once made my boyfriend cry, I can hand on heart say that the glorious reality of this box will just kill you dead. The knife set and serving platters are just the beginning. There are there are so many confits. So many truffles. Half a ham. The crackers. I'm not even at the cheese yet and I'm overwhelmed. Port, champagne, wine, basically everything adults go to sleep thinking about besides mortgages and crippling student debts.
Paxton & Whitfield's Ultimate Paxton's Collection Hamper for £1000, www.paxtonandwhitfield.co.uk.
---
…..yeah
The Harrods Harrodian hamper comes with a PDF of everything that's in it. The list is literally too big to go on the website. It's also the second hamper to feature smoked salmon, which has me wondering why all the other hampers do not feature smoked salmon. Not a hamper to leave under the tree for a week or so (but honestly, you could probably buy your own dedicated hamper fridge if you're splurging on this one).
The Harrodian Harrods hamper for £2,500, www.harrods.com.
---
Double or nothing. Let's end this right.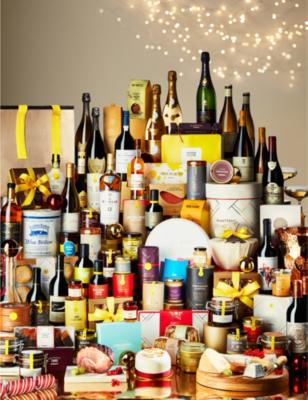 Double the baskets, double the wine, double the chutney while you're at it. Go absolutely bonkers because that's what this Selfridges hamper is – literally mental. Wonderful, don't get me wrong, I'd give up my fictional first born willingly for this beauty in the knowledge that the receivers would take fantastic care of him/her, but mental. At the time of writing, only one Decadence hamper remained on the Selfridges website. I think they are running out of York ham (or Dom Perignon vintage 2009, but I like to think it was the ham.)
The Decadence Hamper for £5,000, www.selfridges.com.
---
Curtain call: The hamper everyone can afford and no one needs.
If you add one The Works small hamper to one order of The Works 48 mini glitter craft jars you have a party.
You also bring the total of this list over £10,000, which is why these nonsensical products have been included.
---
If you purchased our entire shopping list this week please contact me through the Country Life Facebook page because we should hang out sometime. Oh, and you would have spent £10,001.57.
---
For one week only we've transformed our regular utterly inessential shopping list into an utterly royal shopping list, to coincide
---