Whether you're keen to make your own infused gin, try a ten year old whisky or open a bottle of champagne with a bang, we've got something for you.
With so many flavoured gins out there, it's quite possible your dream gin has already been made. If not, this gin infuser might be just the ticket to create your own special blend – or give someone else the chance to!
Priced at £27.99, Gifts Online 4U — click here to buy.
---
Nowadays, you don't need to trawl from vineyard to vineyard to get your hands on some of Santa Barbara's celebrated bottles. If you want to visit the Urban Wine Trail yourself, click here to find out more about the area, but if you can't wait to book tickets, try Kunin Wines' Alisos Syrah 2016 – a fab gift for any wine lover in your retinue.
Priced at £28 per bottle, Roberson Wine — click here to buy.
---
Here at Country Life we love our gin, and although the classics will always have a place on our shelves, we're constantly on the lookout for new varieties to try. Locally sourced ingredients make for a remarkably smooth tipple – and the bottle is rather lovely, too.
Priced at £35 per bottle, Isle of Raasay Distillery — click here to buy.
---
A good bottle of whisky is always guaranteed with Johnnie Walker, now three lines of your own text can make a good bottle great. A wonderful keepsake to prop up any home bar (we see that beautiful bottles are being used as wedding centrepieces a lot now, too) there's no better way to say 'I love you and you love whisky' than an engraved bottle.
Priced at £160 per engraved bottle, including posting and packaging, Johnnie Walker— click here to buy.
---
The Bride Lane Distillery Club subscription
If it had escaped your notice, we at Country Life are big gin fans. Those of similar minds can order new boxes of gin every quarter from the City of London's Distillery new gin club, comprising of everything you need to enjoy a large number of lovely G&Ts.
The December box along is mind-boggling: the distillery's Limited-Edition New Distillery Exclusive Gin (the only chance you'll get to try this outside of City of London walls) 6 bottles of tonic, a 'miniature of the month' glassware to serve your tipple in, garnish to, well, garnish your tipple, plus a gift, a tote, nibbles and vouchers.
Priced at £60 with new parcels every three months – click here to buy
---
Fill your stocking, fill your glass – 'tis the season, and there's no better time to crack open a bottle of this very special Champagne.
Priced at £24.99, Selfridges — click here to buy.
---
Going teetotal (or looking to find new ways to enjoy a tipple)? Try Bird & Blend's Mojitea – cold strain to mix with a rum, or enjoy in a hot mug while you dream of summers on a Caribbean beach.
Priced at £14.85 for the tin, Bird & Blend Tea — click here to buy.
---
Experiences are the new kids on the gift block. A tour of the iconic Beefeater Distillery includes a chance to taste their exclusive Monday's Gin (available nowhere else) and the opportunity to see how some of London's best gin is made. From the 1st December to the 31st, you can enjoy £5 off with the code BEEFVIP19 when you purchase a gift certificate for friends or family – making this the perfect present.
Priced at £45 for a 2.5 hour tour — click here to buy.
---
A little classier than the glass you accidentally walked away from the pub with, this aged dram has been carefully watched by the new owners and beautifully presented with two tasting glasses, perfect for the whisky lover in your life.
Priced at £36.90, The Whisky World — click here to buy.
---
There's only one way to discover your perfect tonic pairing, and that quite frankly is to try them all. For this reason, we suggest you brighten up your table with not only the Moet cracker, but an array of Fevertree gin & tonic Christmas crackers.
If you're looking for a stocking-filler (or main gift because, let's face it, when you have 10 people to buy presents for, Christmas adds up) then opt for the giant cracker, featuring a sizeable bottle or either Edinburgh Gin or Warner Edwards, plus four delicious tonics all to yourself – um, I mean, to the lucky recipient of this very generous gift.
Priced at £32 for four and £30 for the Giant Fevertree Cracker John Lewis online and in stores — click here to buy.
---
Like experiences, subscriptions make perfect gifts; especially when Christmas comes every week for almost a year. If your friend loves beer and wants to widen his horizons, a beer subscription is the way to go. You could even start with a 12 week subscription for a stocking filler.
Priced at £138 for 48 weeks, — click here to buy.
---
Just get me some gin' is the most-used phrase I've heard thus far this Christmas. If you're looking to wrap up a bottle (maybe with a few gin glasses?) then there can't more one more perfect than one filled with edible golden flakes, like a mini Christmas-themed snow globe.
Priced at £34.95, Master of Malt — click here to buy.
---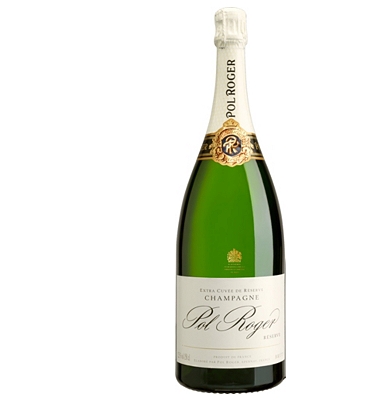 Winston Churchill's favourite grande marque, made from equal parts pinot noir, chardonnay and pinot meunier, is a model of style and finesse.
Magnum of Champagne Pol Roger Brut Reserve, Non-Vintage, £79.99 – click here to buy.
---
After something special for a person who really appreciates their food? Our suggestions are certain to have something that's just
---